Diamond studs are surely every woman's dream. Their radiant glimmer immediately transforms any face, enveloping it in a stunning gleam. It is this incredible quality which makes diamonds not only, as Marilyn Monroe famously sang, a girl's best friend but also a favourite amongst many jewellers who fashion the most unbelievable creations. That said, the majority of us can't deny that it feels awkward wearing works of art on a daily basis. Diamond studs or and other stud earrings work as brilliant alternatives for day to day wear. They are altogether discreet, universal, gracious and stylish.
Diamond studs came into fashion as early as the 16th century and have remained a beloved piece of jewellery to women of all ages ever since. Despite their simplicity, diamond studs are even worn on the Red Carpet to awards ceremonies by stars such as Angelina Jolie, Natalie Portman, Scarlett Johansson and Eva Longoria on a regular basis. Diamond studs have even been worn by famous male stars like Usher, Will Smith, Justin Bieber and Ne-Yo. Unobtrusive though they are, these earrings don't go unnoticed; they always add a bit of pizzazz to the look of their owner, be it a man or a woman.
https://www.youtube.com/watch?v=974zW2QmyNs&t=63s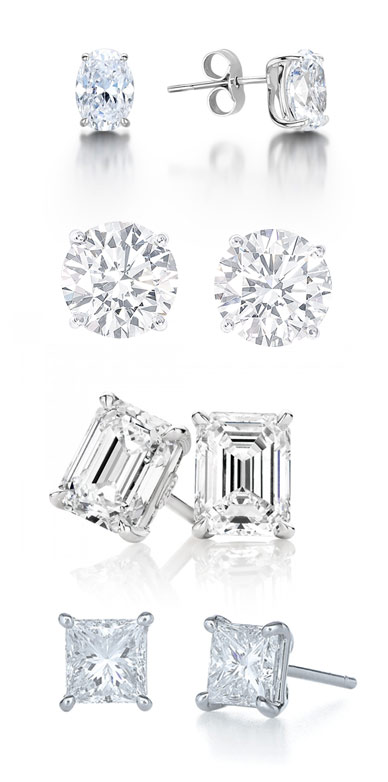 To adorn a woman's ear lobe with the most traditional form of diamond stud earrings, one stone with a distinct facet pattern is used. Round stones are the most popular, followed by the "princess" and "heart" cuts and then all the rest, from "emerald" cut diamonds to teardrop shaped diamonds.
Alongside traditional earrings with one precious stone, one can find, depending on the designer's flight of fancy, geometric flower motifs and abstractions. It's worth simply dipping your toe into the ocean of all these varieties. You're sure to find something that's you!